We are excited to announce that Voices has earned ongoing support from United Way Suncoast's competitive community investment process.  This new three-year funding commitment will help us to continue to provide our $3,000 savings match to all Opportunity Passport graduates, and their Financial Coaching program is an essential partnership to help young adults apply the lessons of the course to their situations. 
United We Rise, United We Win.
Opportunity Passport® is a Jim Casey Youth Opportunities Initiative program at the Annie E. Casey Foundation, and is the the gold standard of financial management programs for young adults who grew up in foster care.  Voices is proud to be the first independent organization authorized to deliver the program.  In 2020, Voices teamed up with United Way Suncoast and Ready for Life, a skill-based learning center serving young adults who are making the difficult transition out of foster care and into independent living.  Young adults are matched with a Ready for Life mentor and complete a financial literacy training. Upon completion of the course, participants are paired with a United Way Suncoast Financial Coach with a financial background to help them put the skills they've learned into action. The program also matches participants' savings dollar for dollar up to $3,000 for assets like vehicles, housing and other tools that help maintain stability at work and school.  Here's a closer look at the program:
1. Financial Literacy Training
Young people learn how to earn money, save, pay off debt and more in this 8-class course designed by the Annie E. Casey Foundation specifically for young adults who grew up in foster care. We are lucky to welcome our instructor Vanessa Kaspyrzk, a Certified Investment Management Analyst, Sales Executive, foster care alumnus and Voices Board member. Every young adult is also paired with a Ready for Life mentor who attends each class, helps them with homework assignments and stays with them after the training to help them reach their goals! Here's a shot from a virtual class!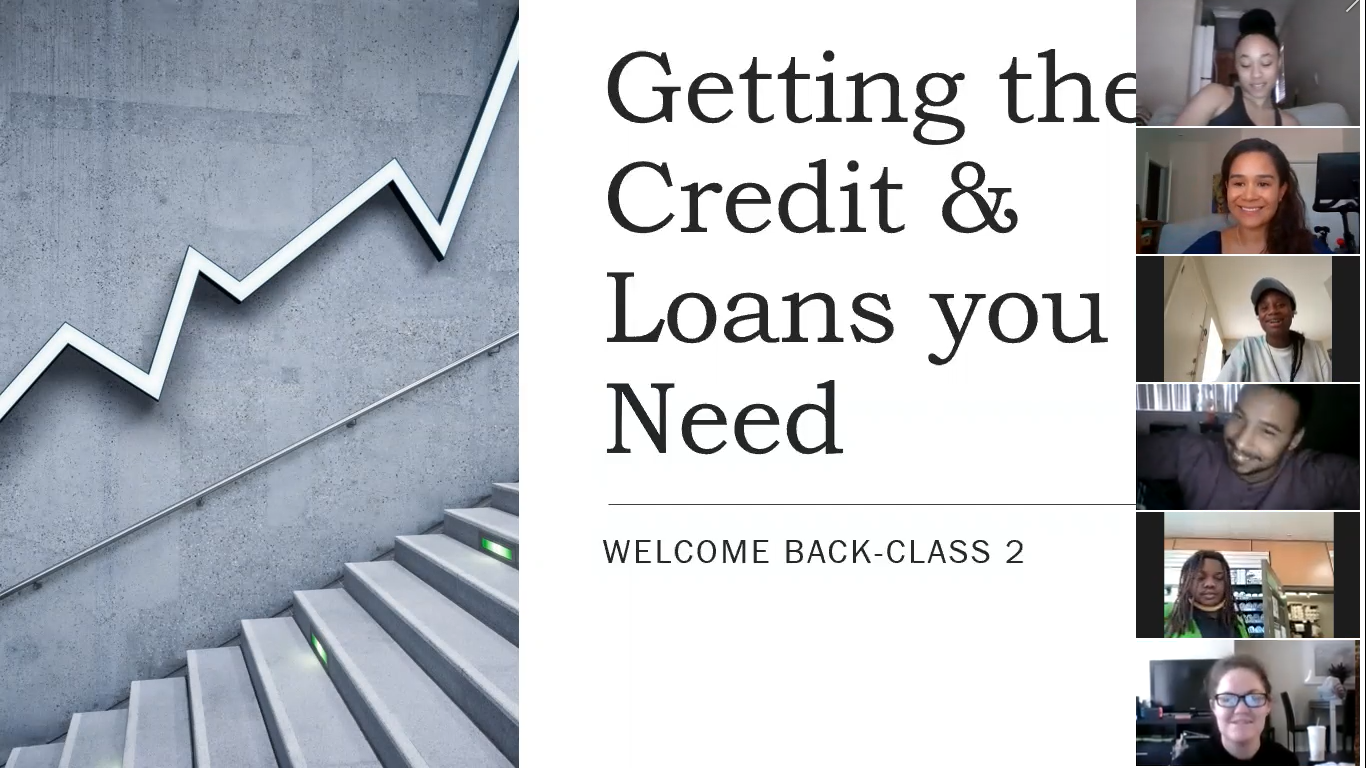 2. United Way Suncoast Financial Coaching
 United Way Suncoast's Financial Coaching Program provides monthly meetings with trained financial professionals who help young people take the lessons they learned from the financial literacy training and put them into action toward their own budgets and goals!  In this video, a graduate takes us on a tour of the apartment she secured with Opportunity Passport and tells us about how her financial coach is helping her to plan for the future.
3. $3,000 in Matched Savings to Buy Assets
Thanks to the support of United Way Suncoast, Voices is able to match young people dollar for dollar to purchase qualifying assets to help them meet their goals.  There is no deadline for the program; as long as a young person keeps participating, they are eligible to make savings matches.
Young people purchase vehicles, put deposits on housing, start their own businesses, start retirement savings accounts, credit building, pay off medical debt and more with the program.  Here's how one graduate used the savings match to launch his business:
Thanks to the Morningstar Foundation, young adults receive a $100 stipend to open a bank and account and seed their savings. Participants can also receive $40 stipends for completing routine surveys and bonuses for participating in speaking engagements. One of the most competitive and highly coveted prizes is the Financial Flurry Award, a special treat sent directly to the house of the person who's homework gets the most votes. Here's Mimi, our first winner!
Over Opportunity Passport®'s 15-year history, the curriculum has proven results and has even been adopted and funded statewide by the Department of Children & Families in several other states. As of December 31, 2019, 4,863 young people had purchased 11,590 assets through the Opportunity Passport®. Participant savings and match funds for these purchases totaled over $18,700,000. This means that, over the course of 15 years, young people have saved over $8,000,000 for these asset purchases.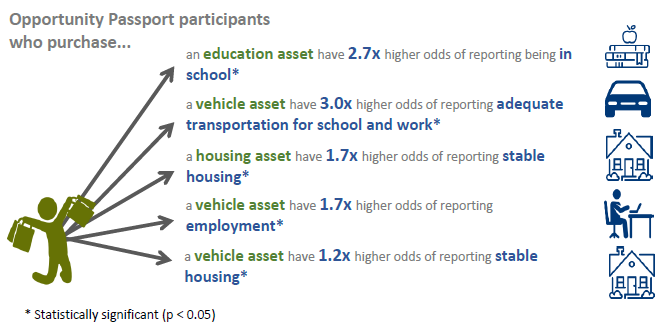 My name is Falana and I wanted to share with you my recent experience and why it's never too late to start working on your goals.  Now, I will say this first lol never rush your goals based off of others accomplishments; do it at your own pace so you don't feel rushed or overwhelmed about everything. I would like to share a goal of mine that has been heavy/tricky:
My credit has been a battle for at least 10 years, and I just felt like it was time to take care of business and make that my focus and my priority. Now granted, I knew it would take A LOT and I mean A LOT of work but I was truly determined to get it done through all the hardships. Ready for Life, Suncoast Voices for Children and United Way Suncoast started offering a program called Opportunity Passport, which teaches young adults like myself different skills and class courses such as savings, checking, credit building & more.  I was really excited to join the class because I was eager to learn everything, especially if I know it can better my future. I went into the class with a plan and graduated from the class learning a lot more that I needed to know and it was one of the best decisions of my life. Upon completing the program, I had an incentive to match what I had saved which could be used for assets such as housing, vehicles, starting a business and again many other resourceful things to help you to become a more self sufficient adult. After graduating the class, I gave myself an assignment: to save up half of what I needed to save and then the remaining balance would be matched to build my credit. I created a small vision board on ways to inspire me to build my credit I turned my vision into a reality. As of April 2021, I paid my credit debt in full!! Now, if you know me, then you would understand this has been a long journey, but I stuck with my plan most importantly I have a wonderful support team who was with me along the way. I want to personally thank all of the volunteers who helped with the program and also Ready for Life and Suncoast Voices for helping me accomplish this goal and also believing in me, especially within the times I didn't believe in myself.  My next goal is to become a homeowner and inspire others to complete one of their goals so they can inspire others as well. I am so thankful for the opportunity that was given to me and I thank you all for helping me to start a better future.
Falana
Interested in joining Opportunity Passport as a young adult, mentor, financial coach or other supporter? Do you have questions about the program? Let us know!
Suncoast Stories
Fitting In
Andy is 15 and 6'3". His family was living in a tent, and Andy became embarrassed to go to school because the other kids knew his living situation and he always smelled bad. Suncoast Voices provided Andy with food, shirts, pants, underwear, socks and shoes, laundry detergent, and personal hygiene items, as well as help with laundering clothes, so he could go to school without feeling ashamed about his life situation that he can't control.
Suncoast Stories
When Santa Doesn't Make It
Jenny is four-years-old and living with a non-relative friend who took her in when she was removed from parents that neglected her. She asked Santa for a tricycle, but it never arrived, and she wants to play with her cousins, but their bikes are too big for her. Suncoast Voices used donations from people just like you to give Jenny a Frozen tricycle of her own.
Suncoast Stories
Keeping Babies Safe
One grandma took in three children when one of their fathers was found in a hotel room with the sleeping baby next to a gun and a bag of drugs. The second father broke into Grandma's home and tried to take the infant, and the other also broke in by busting down the door. Suncoast Voices bought door and window alarms to protect the safety of everyone in the house.
Suncoast Stories
Helping Single Dads Stay Afloat
Suncoast Voices, through generous contributions from our donors, was able to provide a crib and a baby swing for a newborn girl who was place in the custody of her father when her mother was rendered unable to care for her because of severe mental health issues. The loving dad is renting a room and trying to work more to be able to financially support his child, but he can't afford everything she needs, so the items from Suncoast Voices were invaluable to her well-being and his peace of mind.
Suncoast Stories
Dental Attention
Bella is four and has been neglected most of her life. Before entering foster care, she never saw a dentist or had medical attention, and she possibly had never had a toothbrush in her mouth. When she entered foster care, the extent of her dental problems was discovered. A pediatric dentist determined she needed six teeth extracted, three teeth filled, and two spacers fixed, as well as a surgery to remove a painful abscess in her mouth that was making it difficult for her to eat. Sunshine Medicaid would not cover the cost of the surgery because it required anesthesia, so Suncoast Voices, with the help of our generous donors, stepped up and covered the entire cost so Bella could have relief.
Suncoast Stories
Unexpected Change
A few days before Thanksgiving, Benjamin and Brian, ten-year-old twins, were abandoned suddenly by their parents, who made no attempt to contact them. They have been placed with an aunt who only had camping cots for them to sleep on and no funds to purchase beds. Suncoast Voices gave them a set of twin beds and comfortable bedding to provide them with some small sense of normalcy in all of the transition.
Suncoast Stories
Filling Hearts And Holes
Four-year-old Didi was found the day before her 5th birthday by a Child Protection Investigator, living with her homeless mother on her mother's friend's couch. She had only one dress, that was full of holes, and one toy. Her first question to the CPI was if she knew how to sew. Because of donations we receive from people just like you, Suncoast Voices was able to give Didi a birthday party, with a real cake, new toys, and new shoes and clothes - without holes.
Suncoast Stories
Safe Haven 
James, who is transgender, was abused by his family. He experienced extreme Post Traumatic Stress Disorder, which led to sleep disturbances, panic attacks, anger issues, unrestricted crying, anxiety, paranoia, and horribly depleted self-esteem. He was homeless for some time, and didn't attempt to communicate with his parents. James persevered, and is now headed for a college education! He has his own place to live, but he has no furniture. Because of the generosity of our donors and our community partner New2UThriftStore, Suncoast Voices was able to provide $400 towards furniture and appliances, so James can create his own home that is safe from hate.
Suncoast Stories
Running Shoes
Fourteen-year-old Anthony was abandoned by his mother and is unable to be cared for by his homeless father. He lives in a group home where many abused children go when they are older than prospective adoptive parents will generally take in. He wanted to join the track team, but had no one to pay for his running shoes, so Suncoast Voices provided what he needed through the support of donors like you!
Suncoast Stories
Keeping Siblings Together 
Jack, Tom, and Heather (ages eight, ten, and twelve) were removed from their mother because she left them alone more than eight hours a day, and they were often seen outside playing unattended by bodies of water. They now live in separate group homes. Thanks to donations from donors just like you, Suncoast Voices was able to send them to summer camp together, where they will learn how to swim and play, with supervision!
Suncoast Stories
Emergency Responses
A fire in one house endangered three-month-old twins, who were born prematurely and already had significant breathing issues. While the medical personnel treated them for smoke damage, Suncoast Voices was contacted by Child Protection Investigators to provide them and their two-year-old brother with new clothing and blankets (which had been destroyed in the fire). We were able to give them what they needed immediately, thanks to donors like you!
Suncoast Stories
Beds Of Their Own 
Three children (ages twelve, six, and seven months) were removed from their parents' home because of substance abuse and domestic violence. These precious kids were sent to live in Grandma and Grandpa's crowded three bedroom house, which was inhabited by no less than seven other people at the time. They found themselves sleeping wherever they could find room (the floor, the couch, etc.). Suncoast Voices was able to give all three children beds of their own through the generous donations of caring people!
Suncoast Stories
Sports And Healing
Daniel, Darlene, and Davey (ages ten, eight, and four) were abandoned by their mother after their dad was sent to prison for domestic violence, and were sent to live with Grandma and three other children. Often, children that witness violence experience a form of PTSD and need to process it through positive physical activity. Thanks to Suncoast Voices and our donors, Daniel will play on a rec flag football team, while Darlene and Davey will play soccer! We purchased cleats and uniforms, and paid the team fees, so that they could have fun, expend their energy, and build healthy relationships with other kids and coaches.
Suncoast Stories
After-school Activities
Five-year-old Lily was removed from her mother and now lives with her single father. She wanted to play baseball with the other kids after school, but lacked cleats, and her father could not afford them. Her case worker reached out to Suncoast Voices, who was able to give her new cleats (thanks to donor support) so she could participate!
Suncoast Stories
From Dissonance To Harmony
Anna Lisa was removed from her parents at age 12, and sent to live with Grandma and three other siblings. She is a talented violinist, but had outgrown the instrument the school had been providing. Because of donations we received, Suncoast Voices was able to give her a violin of her own that was the right size and quality for her musical ability, so she can keep developing her talent and cope with her pain through music!
Suncoast Stories
Solid Start 
Tiffany turned 18, and is now transitioning out of the foster care system. 20% of children who age out become instantly homeless, and Suncoast Voices (along with our community partner New2UThriftStore) was able to provide items such as appliances and furniture for Tiffany's apartment so that she did not join that number.
Suncoast Stories
A Night To Remember
The costly nature of senior year is something that foster kids simply can't afford. Suncoast Voices gave two 17-year-old girls living in foster care tickets for the prom, prom dresses and shoes, and hair and makeup accessories so they could have a special evening even though their families were torn apart by trauma.